REGISTRATION IS LIVE!
Registration for the 2016/17 Judo season is up! Pay for your first month's registration to reserve your spot in the class.
Please sign up on https://reginayjudo.checklick.com/online-registration.
Note:
YMCA Membership or day pass is required to step onto the mats.

Some schedule changes have been made to ensure a safe and effective practice environment.

Fee changes have been made to cover various club costs. Click 'Fees and Information' for more details.
Congratulations to our 2016 National Kata Medalists!
Bronze Medalists: Maxx Karaim, Jack Karaim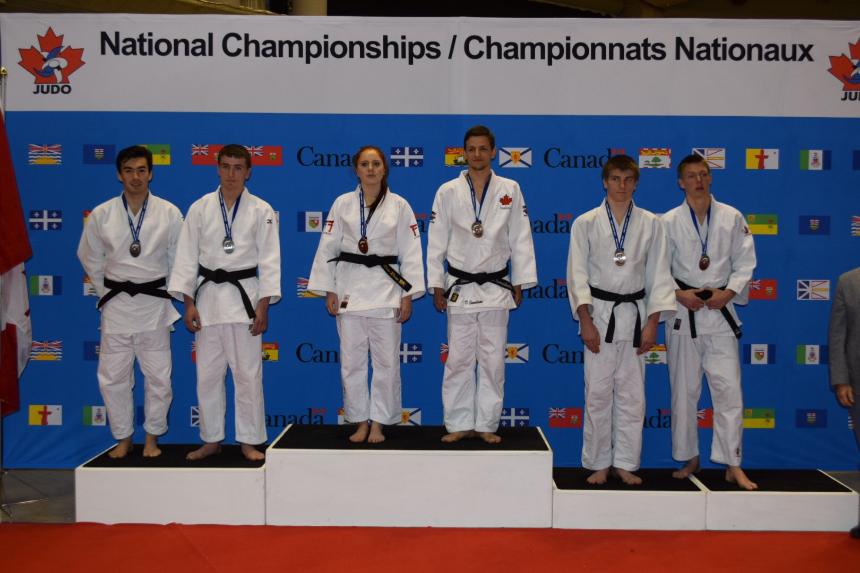 15 Feb 2016
We are pleased to announce that Access Television will be showing highlights from the 2016 Sask Open on February 23rd @ 7PM.
Tune in and check it out!
If you would like a copy after the air date you can purchase a DVD by contacting patrick.palmer@myaccess.coop
Access Subscribers pay $9.95
Non-subscribers pay $34.95
1 Feb 2016
Thank you to everyone who came out to support the largest Sask Open Judo Championships ever!
With over 300 entries from four different provinces we had a fantastic weekend of Kata, Competition and Training.
Dheilly Fire Photography

has now uploaded all the photos from Saturday. Check out the pictures here: dheillyfirephotography.smugmug.com and get your action shots!
Check back soon for the broadcast time and date of the Access Television segment highlighting matches from Mat B on Saturday



8 Jan 2016
We are pleased to announce that
Dheilly Fire Photography

will be on site for the 2016 Sask Open Judo Championships!
They will be at the tournament on Saturday the 23rd from 9AM to 4PM capturing shots of athletes in action!
DETAILS:
There will be a table setup where you can request to have photos taken of you or your athlete in advance so if you want some good shots taken make sure to notify them in advance.

Check back to their website about 7 to 10 days photos after the tournament in order to allow them time to process and organize the photos.

Photos will be available to purchase at only $10.00 a print!
28 Dec 2015
The 2016 Sask Open Technical package is ready and available!
New this year is an excel registration sheet that we are trialing, it can below or on our Sask Open Tournament Page. If you experience difficulties with it, please send your appropriate information directly to us via email: reginayjudo@gmail.com
22 Aug 2015
2015 SEASON REGISTRATION IS NOW OPEN
We have converted to an online system this year in order to serve you better.
Payment is required to register online.
If you wish to pay by cheque or cash we will have to register you manually. Please e-mail us at reginayjudo@gmail.com so that we can reserve a spot for you in the class of your choice.
Step 2 - Register at the downtown YMCA.
ALL members are required to register at the YMCA to attend classes, this is not optional.
YMCA members do not pay any additional fees.
Non-YMCA members must pay a facilities access fee
Regina Y Judo Club
2015 UPDATES!
Start Dates, Class schedule and fees have all been updated!
Stay tuned for further information on:
Registration night

General meeting
Club executive elections
5 December, 2014
2015 Sask Open Technical Package is released!
Click here for all the details!
This is our premier event in Saskatchewan and for the Regina Y Judo Club.
We have teamed up with other local clubs to deliver a high level event that you should not miss out on!
Come out to watch some exciting Judo January 24th at the City of Regina Fieldhouse.
5 December, 2014
Holiday Judo schedule
Kinder Judo: Last class December 8th, resuming January 12th.
Youth Judo: Last class December 17th, resuming January 12th.
Teen/Adult Judo: Last class December 17th, resuming January 5th.
Adult Recreational Judo: Last class December 11th (not resuming in 2015)
5 December, 2014
Great news!
We will be holding another session of Kinder Judo in 2015!
We had a lot of requests to keep offering this class and we were able to secure Sensei Mike Horvey and Sensei Chris Dornstauder to continue this class.

For returning students there will be a $40 fee.
For new members there will be a $100 fee (includes gi)
If the student is not YMCA member, they will need to pay an additional $35 to the front desk.
Classes will start on January 12th and end on April 13th.
Class times are Monday's from 6:00PM - 6:45PM
Age Requirement: 4-6
15 Spots available

16 October, 2014
There is no class this Saturday October 18th.
Good luck to all athletes attending the U of A competition and Brandon Competition!
If you are not attending that then there is a regional training in Pense.
Here are the details for that training:
Location: Pense Judo Club
Ages: U14, U16, U18, U21, Senior
10:00AM to 11:30AM - technique & physical training
1:30PM to 3:30PM - Drills & randori
28 August, 2014
Class Schedule and Fees updated
First class and registration night is September 15th, see you there!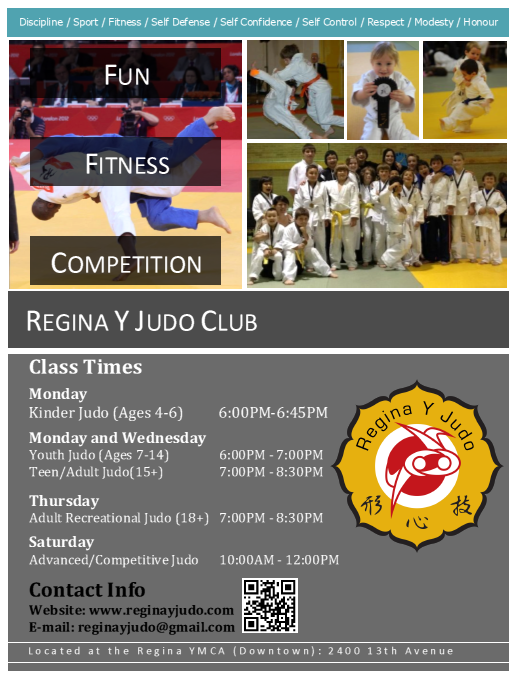 9 July, 2014
Friday July 18th is bring a friend to Judo Day!
Class will run from 10:30 AM - 12 Noon
Much like the title, this means everyone is encouraged to bring a friend out to Judo and have some fun!
Upcoming Class Cancellation:
Monday August 4th (Stat Holiday)
May 11, 2014
Best of Luck to the following members of the Regina Y Judo Club who are attending the 2014 Canadian National Judo Championships in Jonquire, Quebec May 15-19.
Bryce Martindale
Maxx Karaim
Jack Karaim
Alex Li
Taryn Montgomery
Aiden Skaf
Nicholas Skaf
Kel Ostapowich
Mike Horvey (Coach & Athlete)
Robb Karaim (Referee)
Chris Dornstauder (Coach)
What is judo?
Judo is many things to different people. It is a fun sport, an art, a discipline, a recreational or social activity, a fitness program, a means of self-defense or combat, and a way of life. It is all of these and more.
Judo was introduced into the Olympic Games in 1964 and is practiced by millions of people throughout the world today. People practice Judo to excel in competition, to stay in shape, to develop self-confidence, and for many other reasons. But most of all, people do Judo just for the fun of it.
Judo is Fun!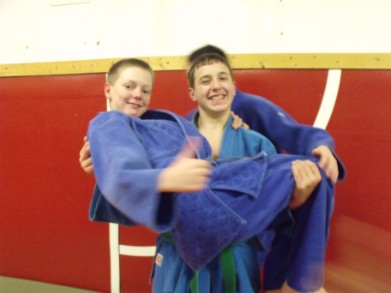 As in all sports, Judo has a strict set of rules that governs competition and ensures safety. For those who want to test their skills, Judo offers the opportunity for competition at all skill levels, from club to national tournaments, to the Olympic Games. There are separate weight divisions for men and women, and boys and girls.
Judo is best known for it's spectacular throwing techniques but also involves considerable grappling on the ground utilizing specialized pins, control holds, arm locks, and Judo choking techniques. Judo emphasizes safety, and full physical activity for top conditioning. Judo is learned on special mats for comfort and safety.
Judo is unique in that all age groups, both sexes, and most disabled persons can participate together in learning and practicing the sport. Judo is an inexpensive, year-round activity, that appeals to people from all walks of life. Many people over sixty years of age enjoy the sport, as well as very young boys and girls.
Judo develops self-discipline and respect for oneself and others. Judo provides the means for learning self-confidence, concentration, and leadership skills, as well as physical coordination, power, and flexibility. As a sport that has evolved from a fighting art, it develops complete body control, fine balance, and fast reflexive action. Above all, it develops a sharp reacting mind well-coordinated with the same kind of body. Judo training gives a person an effective self-defense system if the need arises.
Judo created the system of ranks, now used in most other martial arts, that recognize a person's degree of knowledge, ability, and leadership. There are separate ranks for juniors (under 17) and seniors. Judo ranks are identified by colored belts, and ten degrees of advanced grades for black belts. Regular advancement encourages students to achieve more as per the Judo ranking system.
Principles and Goals of Judo
Judo, which is translated as the "gentle way", teaches the principle of flexibility in the application of technique. This is the flexible or efficient use of balance, leverage, and movement in the performance of Judo throws and other skills. Skill, technique and timing, rather than the use of brute strength, are the essential ingredients for success in Judo. For example, in Judo classes you may learn how to give way, rather than use force, to overcome a stronger opponent.
The principles of Judo, such as "Maximum Efficiency" and "Mutual Welfare and Benefit", can also be used in our dealings with others in life. The ultimate goal in Judo is to develop oneself to the maximum extent possible, always striving for perfection, so that you can contribute something of value to the world.
Our Program
Our senseis are experienced, fun to work with, and completely professional.
2400 13th Ave, Regina, Sk